Check-out our Motorcycle Tours!
In writing the review of my 2007 BMW K1200GT, equipped with its good old dials, it came naturally to me to reflect on infotainment available in modern vehicles and, given that the topic is of general interest and not just about who is interested in this specific bike, I decided to write a separate article.
Digital had entered the instrumentation a few years before, but these were monochrome LCDs, which usually accompanied only the traditional tachometer; above all, there was no possibility of connection with a smartphone, typical of current production. Sure, compared to today's TFT displays, 2000s instruments look like leftovers from the Great War. But I wonder: With these fantastic screens showing everything in Technicolor, is life on board really better? Fluff aside, and for various reasons, my opinion is no; and the same applies to both motorcycles and cars.
First of all, graphics aside, the amount of information useful for driving that is available on a modern instrument panel is exactly the same that I have on my K and on any other good instrument panel of the time. What really changed was the addition of accessory information, i.e., infotainment and GPS navigation; but their introduction is precisely the main cause of the problems that arise in the use of modern displays. In fact, the need to manage an enormous amount of information has forced manufacturers to implement complicated menus and, although they have made an effort to simplify their use, introducing wheels, joysticks, and the like , navigation remains a fact that requires a lot of time and attention, distracting from riding, not counting the time lost studying, at least in outline, the dozens of pages that every manual now dedicates to the matter: 46 on the BMW R1200GS, and over 60 on the Moto Guzzi V100 Mandello!
Furthermore, infotainment and GPS navigation rely on the smartphone and therefore require its pairing with the bike's Bluetooth system, as well as the hands-free system installed in the driver's helmet. Now, I chew a bit of technology, but until today I have not found a single motorcycle or car where the connection between smartphone and on-board instrumentation has not given me problems, not only during the first installation, but also in normal use. First of all, you need to study the manual and waste time understanding how to do it. Then you have to make the connection, raise your hand who succeeded the first time. Then there are the failed reconnections on restart, resulting in cumbersome decoupling and repeating the procedure, a problem that shouldn't even exist, but is a frequent experience. Furthermore, operating the smartphone functions via the bike commands is much more cumbersome than directly using the smartphone itself.
As if all this were not enough, the GPS route is often displayed on the TFT display only in the form of pictograms and written directions; but even in cases where a real map is reproduced, it is not the same as seen in Google Maps or in Waze and usually lacks some important information, especially that related to speed camera locations.
But then, isn't it better to leave the instrumentation with its traditional tasks, and use the smartphone directly for everything else? That's exactly what I do on my K and it works well, much better than on a modern bike. I installed it on the handlebar in a perfect position by using the original BMW GPS base to mount a Quad Lock support with a bayonet coupling that hooks onto a very sturdy, dedicated cover that cannot be accidentally released in any way. I also mounted a watertight USB socket for recharging which can be done also with a wireless system with most modern smartphones.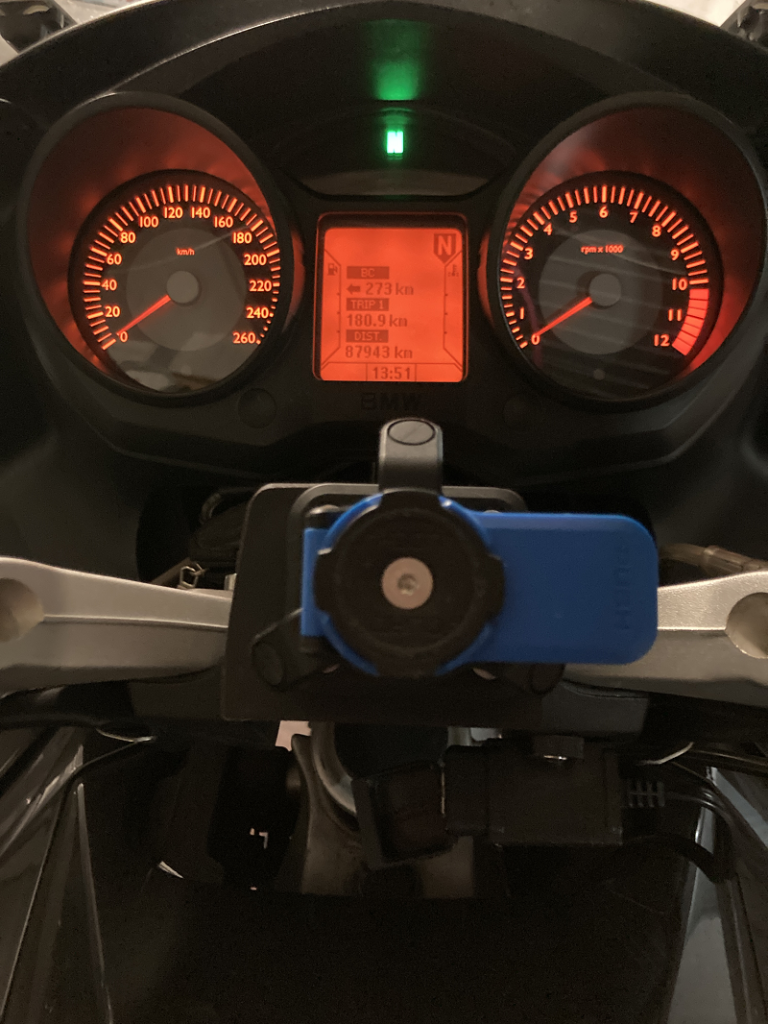 Mounting in open air ensures that the phone does not overheat — at least my Huawei P30 doesn't. A transparent rubber cover protects the phone in case of pouring rain although, to tell the truth, I have never had to use it because it is almost impossible for mounted phones to get wet on big tourers. Most of today's motorcycling gloves allow the use of the display without major problems. Texting is not possible, but usually the destination is set before departure and, in any case, Waze and Google Maps accept voice commands and have large buttons that can be operated with gloves; the same goes for the main commands of the best music players.
Recently, BMW has started to offer an aftermarket smartphone holder that allows use via the Multicontroller wheel. Could this be the beginning of a rethink? I hope so.